April 2021 Edition
News, insights and information from the rapidly changing world of eCommerce designed for the online merchant!
OPENING THOUGHTS
It's Q2 2021! What can we expect for the remainder of 2021? Will shoppers return in numbers to their favorite stores? Will the surge in new eCommerce businesses and in eCommerce-related transactions continue? All questions to consider, but only time will tell.
As a merchant there are things you can do to maximize the opportunities that currently exist and may exist in the months ahead. Are you up-to-date with the latest release of relevant eCommerce technologies? Do you know which technologies to choose and who to trust with the creation and implementation of your web store?
Kadro is here to help make your vision for selling online a reality. We can recommend enhancements to your present eCommerce environment that will help you gain and retain more customers or get your started on a full-feature commerce platform. Check out how our own Logan Wilkerson solved a very complex Delivery Time scenario on Magento Commerce!
Contact us to discuss your needs.
CLIENT SPOTLIGHT
Pool Season is Here! Let's Get in the Swim.

Founded in 1967, Doheny's is a leading provider and supplier of swimming pool and spa equipment and supplies in the United States. Doheny's websites sells both direct to consumers as well as to commercial buyers for above-ground, inground, and spas including pools, chemicals, supplies, equipment, accessories, safety products, and parts.
When Doheny's first approached Kadro, they were seeking a Magento systems integrator that would operate as their partner. They needed a Magento development partner that could provide both the technical and business expertise to move their eCommerce business forward.
Learn More about the Doheny's & Kadro Story

Limited-time bonus: Use coupon code K21FREE to get free shipping on orders of $100 or more at the Doheny website.

MAGENTO PROJECT GONE WRONG? KADRO CAN HELP WITH PROJECT RESCUE SERVICES
eCommerce projects don't always go as planned. This can occur for many reasons. No matter what the reason, Kadro can help. We offer a comprehensive array of website project rescue and support services tailored to each client's needs. Learn more by visiting our Magento Project Rescue Services page.
TECHNOLOGY PARTNER SPOTLIGHT
Vertex, Inc. is a trusted global provider of indirect tax software and solutions. The company's mission is to deliver the most trusted tax technology enabling global businesses to transact, comply and grow with confidence. Vertex provides cloud-based and on-premise solutions that serve specific industries for every major line of indirect tax, including sales and consumer use, value added and payroll.

Download this eBook from Vertex to discover
What B2B buyers expect as they research and transact purchases
Key challenges to delivering a better B2B customer experience
What's causing the gap in customer experience
How you can create great B2B buying experiences by leveraging a powerful ecommerce platform with a tax technology solution.
ARE YOU READY TO MOVE TO MAGENTO OR TO UPGRADE TO THE LATEST VERSION?

EMPLOYEE SPOTLIGHT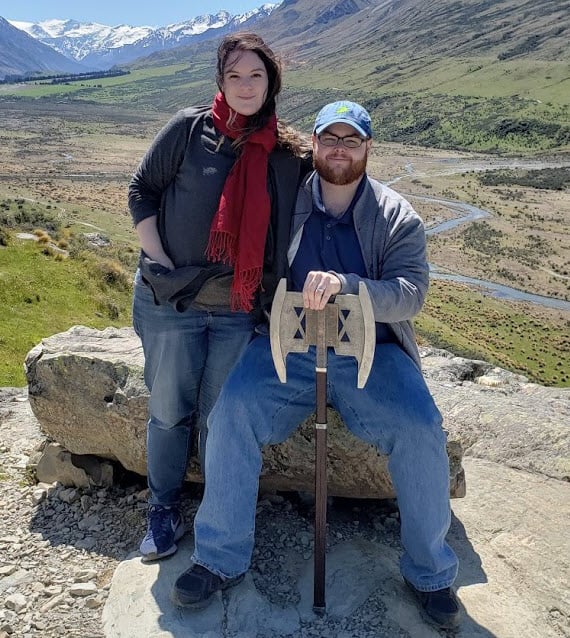 Meet
Logan Wilkerson
Senior Software Engineer
What do you do at Kadro? I'm a Sr. Magento Developer with full stack development experience. When it comes to setting up a Magento store, there isn't much I haven't done at some point. Custom feature development, data migration, 3rd party extension installation/configuration, server configuration, and deployments are all within my domain.
If you could do anything you want right now, what would it be? Unrealistically I'd like to orbit and experiment on a black hole. Realistically I'd like to be running a tabletop RPG game right now, but I have to wait for my Saturday game.
What's your favorite food? On a general level I'd say chicken wings. I have my own wing, sauce, and dip recipes that I have tweaked and modified over the years. On a specific level there is a restaurant in NZ called Flame that makes ribs I have yet to be able to top. I have a BBQ sauce recipe inspired by the experience.
What about family? My wife Helena and I were married in 2018. My mom has retired to Washington with her partner. My sister is still trying to make her way and is currently in Austin, TX.
Have any pets? I have one cat named Doctor. He's about 95% fluff.
Favorite karaoke song? I tend to listen to the same song on repeat over and over and over again until I can belt out the words. The last song that I subjected to this process was History Read by The Altogether.
Favorite video game? I play a lot of games, so this is a hard question to answer. The game I probably have the strongest fond memories of is Megaman Legends.
Favorite quote? I don't really mentally catalog quotes. I'd have to look something up which somewhat negates the sentiment.
What gets you out of bed in the morning? An alarm of some sorts generally.
Biggest or simply most meaningful recent professional accomplishment: I take pride in my ability to convert messy failure prone processes and turn them into robust repeatable processes. Every time we take on an existing project that's pretty much my mission statement. Recently we received glowing feedback from one of those customers about how my efforts had completely changed their feelings about their site and their deployments. It meant a lot to me.
Biggest or most meaningful recent personal accomplishment? About 8 months ago I started a FFXIV savage static with my wife and two real life friends. I hadn't played the game in years and going from zero to savage was a tall order. We recruited another four people and started trying to tackle the game's end game content. Despite my inexperience, I stepped up to raid lead and to be honest we were all kinda bad. The group has improved by leaps and bounds and we recently completed our second tier of content ending out the current expansion. I've had to make some hard choices in order to get us there, but we did it. And now we've teamed up with some new friends and are starting the ultimate difficulty challenges.
What is one unique thing about you that few people know? Haha. If I told you what would I do the next time someone asked me this question? For real though, I tend to be pretty open with my hobbies and interests, so the fun stuff is public knowledge.
Our blog is a great place to find articles on a variety of eCommerce and business topics, links to webinars and podcasts, and more.
Featured content of the month:
Watch the dotlive by dotdigital webinar on How to use segmentation to supercharge your marketing campaigns.
Read the article – What's the One Thing Businesses Need in 2021 – an informative article by Kadro and Annex Cloud
Listen to the Naughty x Nurture by dotdigital podcast with Ariel Mordetsky (Kadro) and other eCommerce experts as the talk about the similarities between eCommerce and fishing. It's reel interesting!
Deciphering a Magento Website's Delivery Times Dilemma – an interesting article about overcoming technical challenges for a client.